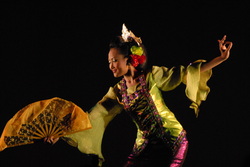 ERA DANCE THEATRE LIMITED was incorporated on 13th May 2009 as a company limited by guarantee and not having a share capital. The company was spearheaded by two directors, Artistic Director Osman Abdul Hamid and Executive Director Azrin Abdul Rahim.

Era Dance Theatre (EDT) was formerly a Malay Dance group formed by Osman Abdul Hamid in 1992. For many years, EDT stretched the boundaries of the Malay dance scene in Singapore, bringing a unique quality of Malay dance under the creative direction of Osman Abdul Hamid.

The company's repertoire includes traditional, contemporary and new creative Malay dance. Its annual highlights are Kacip Mas Dulang Permata, a platform provided for choreographers to showcase their works, the Muara Festival, a regional Malay dance and music festival that promotes the exchange of performance repertoire between participating groups and the Multi-Genre/ Tri-Master Production where the fusion of different genres are weaved into one holistic production. These events serve to celebrate, elevate and sustain the richness of the Malay culture and tradition.

EDT has come a long way since the incorporation of the company as it embarks on new challenges and opportunities. Over the last few years, the company has staged many productions and joint collaborations with local and foreign groups inter and intra-cultural genres. EDT hopes to explore new boundaries such as providing therapeutic courses through dance and music. Beyond entertainment and revitalising the Malay arts in Singapore, EDT hopes to utilise art as a therapeutic tool to enhance one's physical and emotional well-being. The executive director, Mr. Azrin, is a qualified psychotherapist and a mental skills trainer specialising in family therapy as well as therapy for children and adolescents. He also conducts psycho-education workshops, helping participants deal with learning disorders, abuse and trauma. ​

---
Vision
Fostering sustainable traditions
Mission
Fortify self-identity through knowing and understanding culture and traditions.
Develop artistic aspirations and creativity of the artist.
Bridging between multi cultures and creating opportunities.
Objectives
To promote and develop the Malay Arts and Culture in Singapore.
To advance the education of the public on the Malay culture, particularly through the Malay music, dance and theatre.
To undertake public educational projects in the furtherance of the mission of the company.
To foster interest and pride in the Malay arts and cultural heritage.
To act as a resource body for any individual or group.
To provide and conduct courses on expressive art therapy, dance movement therapy and other related therapeutic services involving dance and movement.